ALTRES - Rise Reviews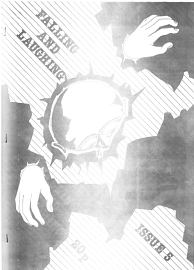 Falling and Laughing issue 5
Here we have another Dundee ensemble striving to enlighten the city's contempory music arena. Consisting of five, Altres are synth dominated but not in the Depeche Mode mould but much more akin to Jean Micheal Jarre or even the recent experimental music Bill Nelson has been making.
On Rise there are seven tracks, each one creating atmospheric backing music which would be appropriate for many television documentaries, especially wildlife programmes.
Lacking in force and vigour Altres barely stimulate musical ecstasy. Their subtle sounds merely blends discretely into the environment However, Altres via "Rise" display an imaginative creativity, and maybe their aim WAS to create such serene music that drifts lazily into the background; if so then all credit to them.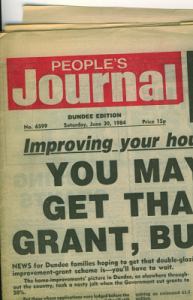 The People's Journal - Dundee Edition
No, 6599 - June 30 1984
Those who like synthesizer music (and, let's face it, who doesn't these days?) could do worse than get a hold of a cassette just produced by Dundee-based band Altres.
Altres have been in existence since January 1983 and their line-up consists of five synth players, one guitarist and a drum machine (!).
Jeremy Bryning, Joseph Donnelly, Kevin Guthrie, Brian Hutton, Maurice Richardson and Mike Nelson are the names behind the instruments and the quality of their cassette, entitled "Rise", is very, very good.
It has been released on their own Multi-Purpose Productions label and the band have plans to follow it with similar releases.
As far as live work is concerned, Altres have played a few gigs in the Dundee area and say they are working on the possibility of a gig in the city's Steps Theatre in the near future.
"Rise" is available for £2.50 from Rockpile Records, J.J. Records and Groucho's.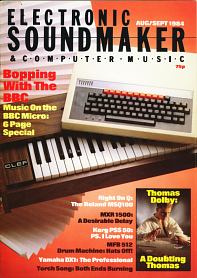 Electronic Soundmaker and Computer Music Aug/Sep 1984
Altres are competent electronic traditionalists. A six piece synthesizer group based in Dundee, their music is supplemented by the occasional guitar of Mike Nelson but for the most part is a familiar passage through lengthy keyboard passages, each instrument adding and subtracting from lush instrumental themes. Only the guitar hints at any latent aggression; for the most part each 'song' acts as a meeting place for the various instruments to mesh, interact and then drift off again as some new theme comes to dominate.
The overall effect on pieces such as Sometimes Elsewhere and Intrance (both extended) is to create an ambient, largely pastoral impression on the listener, that lacks any genuine melodrama and sudden musical shifts to be truely captivating.
As it is, Altres will undoubtedly appeal to those amongst you who prefer music to set up patterns rather than to challenge anything in particular. It leaves you to fit in the details. I feel that with some direction towards the integration of instruments other than synthesizers it could provide the missing spark the group need. Pleasant background music for a warm summers evening. It is the first tape release on their own Multi-Purpose Productions label.
---
---